Reliable Pool Heating Repair Experts
A heated pool can give you a relaxing and nice cool swim. Bearing in mind the cost involved in installing a swimming pool, you need to get the most out of it as value for your investment. When temperatures start to drop, many homeowners tend to cover their pools as they wait for another season of sunshine and warmth so as to get back into their pools. At Air Conditioning Miami, we have the solution to ensure that you enjoy your pool all through the year.
Heating a swimming pool can consume lots of energy particularly in instances where your pool heating system has hiccups. This energy expenditure ultimately takes a toll on your heating bills thus making it a struggle to keep your pool running. Our professionals not only repair your heating system, but also ensure that everything installed is working efficiently. We repair the following pool heating systems:
Gas Pool Heating Systems
Being one of the most popular pool heaters, many homeowners have installed gas-fired heater models. Depending on their climate and pool use, many of these homeowners enjoy the higher efficiencies that come with this heating system. However, with time, gas heating systems also break down and as such require emergency repairs and scheduled maintenance. We provide these services comprehensively.
Heat Pump Systems
These are powered by electricity and they literally move heat from one place to another. They do not generate heat on their own. Heat pumps have fans and evaporator coils as well as liquid refrigerants which need to be checked on a regular basis to ensure they are functioning optimally. We do coil cleaning, lubricating of moving parts and replacing broken fans. We also straighten fins to ensure the swimming pool heating process is not interrupted.
Solar Heating Systems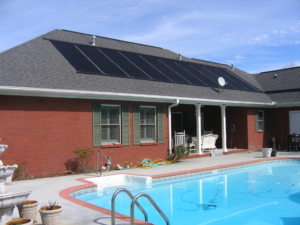 This is considered clean energy and consists of filters, solar collectors, a pump for circulating water through the filter as well as a flow control valve for diverting pool water via the collector. Though simple in mechanism, solar heating system also experience problems at the filter level or the control valve point. Whatever the area; our certified pool experts diagnose and repair the problem accurately.
We are Experienced!
If your pool heating system takes long to heat or does not turn on at all, you don't need to be troubled because we have the tools to help us inspect and pinpoint the problem. Our ultimate goal is to ensure your pool heating system operates efficiently and this is why we invite you to subscribe to our maintenance plans where a skilled professional from Air Conditioning Miami will be coming to do regular checks and tune ups.
Call Air Conditioning Miami and get the outstanding performance you deserve for your pool heating system.