Outstanding Heating Repair Service
Keeping your home warm involves a lot of things and to most homeowners this is a lot of work they wouldn't want to be involved in. that is why our Air Conditioning Miami experts are all over the city to our customers in replacements, repairs, and attend to scheduled maintenance exercises. The customers who are on our list no longer find heating problems a challenge because their inconvenience ends the moment they gives us a call. Our customer service is always live and you can reach out to us all throughout the day, night, during weekends and even on holidays.
Whether your heat pump or furnace stops working or starts exhibiting signs of inefficiency, our experts can help you in repairs within no time. We have experienced NATE-certified technicians who have outstanding skills to diagnose and fix any heating unit problem you may have. To us, there is no assignment that is small to be ignored, but rather we service every furnace or boiler to your expectations.
Heating System Maintenance
We all know that you can't prevent your furnace from crashing, but there is something you can do to either lower the magnitude of the breakdown or reduce their frequency. These are our goals in our maintenance service plans. The tune ups are professionally done to give you lots of benefits including efficient heating system operation which means less energy used and reduced carbon footprint. By undertaking regular maintenance, we also help homeowners to reduce their costly repairs which mean a lot for most families in Miami.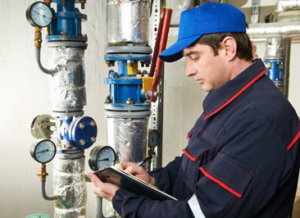 The Heating Systems We Service
We service a number of heating systems including:
Furnaces and Air Handlers – Whether you want replacements, upgrades or just repair works, our professionals will work with you to ensure you are comfortable. The types of furnaces we service include but are not limited to electric furnaces, gas furnaces, as well as oil furnaces.
Heat Pumps and Packaged Systems – These are considered energy saving and efficient HVAC equipment. At Air Conditioning Miami, we have specialized teams that understand the ins and outs of these systems. We provide all-in-one servicing making your home comfort a phone call away.
Mini Split Systems – When it comes to cooling and heating of individual rooms and living spaces, mini splits give you a much more efficient cooling option because only the spaces required are cooled or heated. Our technical team will help you in installation as well as repair and maintenance of these units.
We Can Handle Your Needs
Because of our exceptional brand partnership, we work with lots of brands and as such you don't need to be worried whether we can handle yours or not. If you wish to speak to an Air Conditioning Miami contractor, you can either fill the web form on our site or give us a call today.